Terug
Why Translational Medicine?
Why Translational Medicine?

"Translational Medicine addresses unmet medical needs. Therefore a global community of translational medicine professionals needs to be built and fostered for the tangible benefit of patients and society."
From: the vision and mission of the Eureka Institute for Translational Medicine

Berent Prakken
uitklapper, klik om te openen
Vice-dean for Education, UMC Utrecht, and Co-founder of the Eureka Institute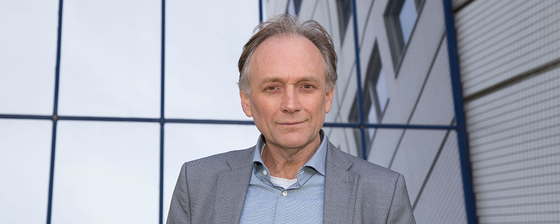 One day, my friend and colleague Salvo Albani and I realized how many mistakes we had made while trying to develop immunotherapy. We committed ourselves to prevent young scientists from making the same mistakes. This started a long and unforeseen journey. We met like-minded people along this journey, and together we started the Eureka Institute. The aim of Eureka is to create a community of Translational Medicine professionals to increase the impact of science on patients. The initial accomplishment of Eureka was our certificate course, an international course in worldwide Translational Medicine that was first offered in 2009.
The mission of the University Medical Center Utrecht (UMC Utrecht) is to generate, evaluate, share and apply knowledge about health, illness, and care for the benefit of patients and society. This is in line with the vision and ambitions of Eureka. From that perspective, it was no surprise that UMC Utrecht joined Duke- National University of Singapore Medical School in becoming the first university partners of Eureka.
Today, Translational Medicine is blooming at UMC Utrecht, in alignment with the philosophy of Science in Transition. On this website, you will find examples of that. But above all, it gives voice to scientific role models. They explain what Translational Medicine means to them, and how it is incorporated in their daily work. They share their expectations and hopes for the future. May their words convince you that we can increase the impact of biomedical research, and that we indeed can, and will, make good on our promise of improving patient's lives!
Frank Miedema
uitklapper, klik om te openen
Dean and Vice-Chairman of the Board, UMC Utrecht, and Co-founder of Science in Transition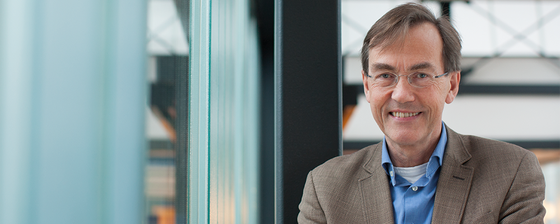 With the promise of new treatments and therapies, Translational Medicine is at the heart of biomedical research. But for a host of reasons, it may not always get the appreciation it deserves. With the Science in Transition initiative, which is rooted in UMC Utrecht and started in 2013, we aim to shed light on the incentive and reward system in biomedical science. We hope to push researchers to value efforts that bring results from the laboratory into clinical practice over publications in peer-reviewed journals.
Science in Transition is one voice in a choir. Many analyses strongly suggest that current incentives, combined with hyper-competition for limited funds, contribute to the reproducibility crisis; to waste in research; and to poor translation of promising findings to clinical application. The inescapable conclusion is that we need new rewards and incentives for scientists, and that we should involve societal stakeholders in setting the research agenda. This conclusion and possible solution is echoed in the European Union's 'Open Science' agenda for science policy.
UMC Utrecht takes its responsibility and intends to cultivate first-rate biomedical research and innovation. With Science in Transition, we make a plea for science that produces socially robust knowledge. We want to produce knowledge that answers relevant questions and benefits society. In the field of medicine, this means we have to make research 'translational'. That is why I fully support Eureka and the efforts at UMC Utrecht to improve and expand Translational Medicine.
Joyce Browne and Lilly Verhagen
uitklapper, klik om te openen
Joyce Browne, Assistant Professor, Global Health
Lilly Verhagen, Postdoctoral Researcher and Pediatric Resident, Global Health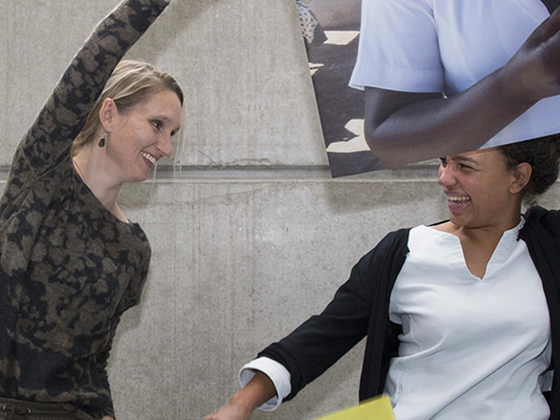 "The future of Translational Medicine will be especially bright if we can direct our combined efforts towards diseases with a large burden in difficult-to-reach populations around the world."
"Translational Medicine is a continuous process in which you try to solve a problem in a lab setting, and then translate that back to your patients. We see whether it works, and go through the whole routine again until we reach clinical impact, rather than using a one-step bench to bedside translation." In Lilly's case, the focus is on respiratory tract infections and vaccination in global pediatric risk groups. These patients could be at risk because they live in a setting with low resources, or it could be a group of patients in The Netherlands with immune deficiencies - with an immune system that fails to properly protect against infections.
"For me, one of the challenges is to tailor our vaccination strategies to the specific risk groups across the world, rather than the one-size-fits-all approach that we currently take: embracing rather than masking differences between populations. Joyce adds, "I made the decision to focus on Global Health education and research. I want to focus on areas where the burden is high, and where I feel I can add the most value and impact with what I do. For Translational Medicine, this means thinking about how we can make innovations available at the bedside of patients all over the world. One of my research projects focuses on a 'poly pill', a pill that combines aspirin and calcium to prevent hypertensive disorders of pregnancy. This is one of the major killers of mothers and babies in the world. I set up the project to develop this pill for Low and Middle Income Countries. But at the moment, I am actually preparing a clinical trial in the Netherlands, using the same pill for Dutch women."
Both Lilly and Joyce agree that Global Health and Translational Medicine are related. "I would say that addressing global health issues requires the same methods and techniques in all fields and settings, plus some context-specific logistical challenges", says Lilly. "You need to cross political, administrative, linguistic and cultural boundaries to address the patient's most relevant questions.You need to look beyond the borders of your country," adds Joyce.
"We have one research line from the bed of the patient to the molecules in the lab. It is not a one-way street: it is dynamic and it goes back and forth."
Jeffrey Beekman
uitklapper, klik om te openen
Group Leader, Translational Research on Cystic Fibrosis, UMC Utrecht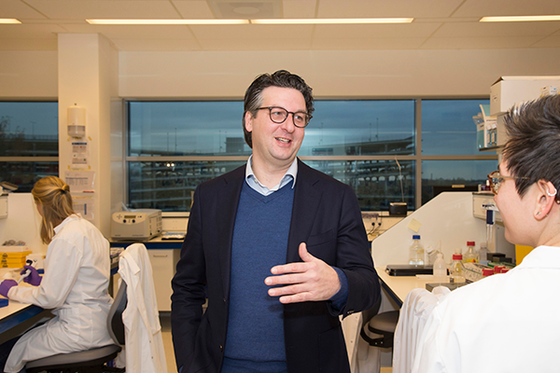 "In my heart I am still a basic scientist, but it is amazing what kind of impact you can have on peoples' lives."
Recently, Jeffrey Beekman was one of the speakers at the largest conference on Cystic Fibrosis (CF) in the United States. Many parents of children with CF were present. "The vibe at this conference gave me goose bumps. I could feel the response to our research when everyone saw our experiments for the first time. When I talked to the parents afterwards, I learned that our research really had a large impact. It still gives me goose bumps." Jeffrey has not always worked in the field of Translational Medicine. "As a basic scientist, you focus on scientific concepts and questions. Basic research is obviously needed, but I wanted to have more impact on patients' lives. That is why I switched to the field of CF." Jeffrey now collaborates with scientists from different disciplinary backgrounds. His team designed a test focussing on stem cells that could potentially be used for CF treatment. "Together with the CF patient organisation we co-fund a program to enable individualized therapy for CF. What I like about having direct patient involvement: they keep you oriented on the impact of research for the patient. In the end, with our research we provide a service for the community. In my heart I am still a basic scientist, but it is amazing what kind of impact you can have on peoples' lives. You hope and dream about what you may achieve, but this time it turned out to be even better in real life."
Annet van Royen
uitklapper, klik om te openen
Pediatrician, Associate Professor, Program Director of Selective Utrecht Medical Master (SUMMA)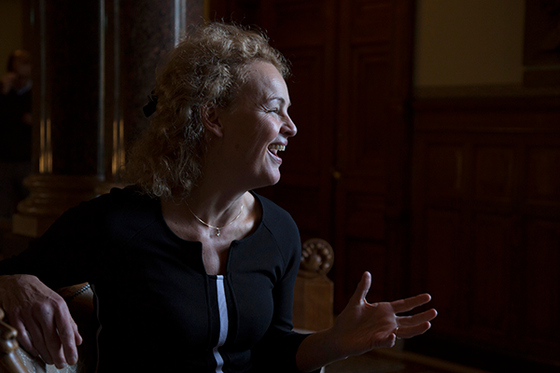 "The field of medicine is changing very fast. It is difficult to prepare our current students for future challenges, and we need students who are able to collaborate with people from different backgrounds to kickstart innovation."
Annet van Royen-Kerkhof speaks enthusiastically about SUMMA, the four-year Medical Master Programme at the University Medical Center Utrecht. "The small scale of the program guarantees close interaction with the students. Our students already have a Bachelor degree in a field related to Life Sciences, so they are able to challenge you as a teacher and add different perspectives to the discussion.
In my opinion, the field of medicine is changing very fast. It is difficult to prepare our current students for future challenges, but what we do know is that we need students who are able to interact and collaborate with people from different backgrounds. For example with technicians, since many innovations start at the interface of medicine and technique.
In an ideal world, our SUMMA students would collaborate with students from other master programs on real life problems that cannot be solved by a single research group. This would contribute to my main aim: to teach students to think outside the box, to be creative, and not to be hampered by existing structures."
Carl Moons
uitklapper, klik om te openen
Professor of Clinical Epidemiology, Julius Center for Health Sciences and Primary Care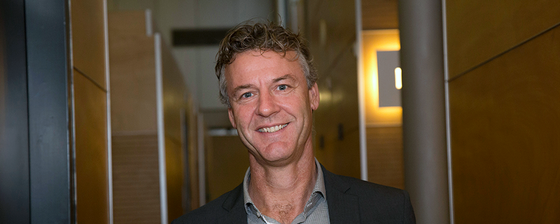 "There is a bright idea or healthcare innovation and a firstin-man study has been done, so it is beautifully translated from the lab to human. But then, boom, still nobody knows whether it works or has impact in daily medical practice."
"From my perspective, we can only speak of Translational Medicine when research results are applicable to the end-users. These end-users would include patients or care providers, and not only research going from the bench to the first-in-man studies." For Carl it is obvious, "Medical science is often too discovery-driven. It is sexy to discover things or develop innovations, but not to validate or test these discoveries in the context for which the innovation is eventually to be applied. And that is what is needed before taking wide scale implementation of any innovation into practice. I used to be the same, in a way. We finished a phase 3 trial, described it in a beautiful paper, published it in a high impact journal and went on with the next trial. What I should have done is pick up the result, further explain it where needed, and bring it to the relevant stakeholders to make sure it entered the clinical guidelines."
Carl continues, "To me, Translational Medicine often seems less translational than it should be. Researchers and research teams often stop too early. From the start of the idea or conception of the innovation, we should work much more in multidisciplinary teams. This is needed in the entire chain to bring the idea into daily practice. Then Translational Medicine will be fully translational, and much more effective and impactful. It moves from discovery- and technology-driven to impact- and fit-for-purpose-driven. If you talk about decision support systems, for example, the end-users are you and I, and actually the whole population. Developing a decision support system or some e-health app is one thing, but evaluating whether it indeed has true impact on the health of the actual end-users in the intended context of the app is something else."
Gautam Kok and Remi Stevelink
uitklapper, klik om te openen
Utrecht University students, and Board members of Apollo Society Utrecht
"My involvement with Apollo Society makes me think critically about the topics of my projects and what the contribution is to the health of patients"
Apollo Society is an active international network of likeminded students with an interest in Translational Medicine. It was founded in 2014 by four medical students from Utrecht. Gautam explains, "There was a lack of courses on Translational Medicine in our curriculum so we decided to teach ourselves. We gather once a month to discuss topics related to Translational Medicine. These discussions tend to be very lively. Everyone chooses a topic, and we look at these topics from multiple perspectives, including medical, ethical and political points of view." Following the example of Utrecht, the University of Toronto started an Apollo group as well. "We are currently writing an article in collaboration with the Apollo group in Toronto on Translational Medicine about the role of students in promoting Translational Medicine globally. In the future, we want to expand Apollo to different hubs: the universities of Miami and Arizona, and University College London." Why is Translational Medicine important to them? Gautam reflects, "I was doing lab research, trying different kinds of drugs on cell lines. I was tucked away somewhere in a lab and did not know what I was doing exactly and what I was doing it for. That was the moment when I decided to become a doctor as well, and combine research with patient care." Remi says, "Actually, a similar story applies to me. I found out that many researchers, including myself, had never met a patient. I did research on autism, but I had never met someone with autism. And I think my professor had never met any patient with autism either. I realised that this was not the way to go forward and I decided to study medicine as well as doing research to actually make a difference on the health of patients." Remi continues, "My involvement in Apollo makes me think critically about the reasons for choosing a particular project and the contribution to health in general. Currently, I am doing research on epilepsy. I use genetics to predict treatment outcomes, eventually leading to personalised medicine. The parents of my epilepsy patients fund my research. Since the parents are involved in the questions I try to answer, I actually produce something that is relevant to them. That keeps me motivated."
Jorg van Loosdregt and Bas Vastert
uitklapper, klik om te openen
Jorg van Loosdregt, Translational Immunology Researcher, Group Leader of the van Loosdregt/Vastert group
Bas Vastert, Pediatric Rheumatologist and Researcher, Group Leader of the van Loosdregt/Vastert group
"Translational Medicine is not the Holy Grail, but it really makes science better."
"Working together with Bas, a pediatrician, makes my work more relevant and more fun", says Jorg, a basic researcher. "As a fundamental scientist, I learn a lot from Bas about disease, disease mechanisms, how patients feel, and what they find important. This applies to all members of our research group: we learn a lot from each other. We perform clinical trials based on fundamental research we did in the lab, and that is just one example of many tangible results of our collaboration." Bas continues, "I need this environment of smart scientists, with the focus and time to work on clinically relevant problems. Science gets better when people are continually present for brainstorming and problem solving. We both explicitly opted for Translational Medicine. To us, it is the missing link to make science relevant. Translational Medicine is not the Holy Grail, but it really makes sciences better." The van Loosdregt/ Vastert lab is engaged in clinical science, but also in fundamental science. Since these are the two extremes, everything in between is also present in the group. Jorg explains, "We do super-fundamental DNA and RNA research, and we try to understand the biology of disease." Bas adds, "But it all has to be translatable, it has to have impact on our patients.
It is unrealistic to think that we can develop a new drug in a couple of years, but we can make smarter use of existing drugs, combine drugs in different ways, or put the right drugs in the right order for our patients. Embedding our efforts in a bigger organization or context is very important. We cannot do this alone in our group; we need local support. We also need to work with powerful partners, so that we have sufficient budget and freedom to do our work. We definitely see a transition here at the University Medical Center Utrecht in favor of Translational Medicine, but there is a long road ahead of us." For Bas and Jorg it is obvious that working as a team has a clear advantage, and that patients benefit from this collaboration. They joke, "We can't turn back anymore." But more seriously, they add, "We really believe in Translational Medicine and that it will improve patient care."
Jeroen Pasterkamp
uitklapper, klik om te openen
Professor of Translational Neuroscience, Director of MIND Facility, and Chair of Strategic Research Program Brain
"We have one research line from the bed of the patient to the molecules in the lab. It is not a one-way street: it is dynamic and it goes back and forth."
The lab of Jeroen Pasterkamp is translational in several different ways. He explains, "First of all, we try to understand how the brain normally develops and works, from a basic research perspective. We use the normal situation as a standard, and then compare it to the injured or diseased situation. Another strategy is to use genetic information, brain resection material, or cultured human neurons from patients as a starting point. We can then use this to identify the cellular and molecular mechanisms that are affected in different diseases."
"Translational Medicine in the field of neurosciences is different from other fields, because the nervous system is a complex organ and we do not know much about it. We are trying to fix the patient's problem, but at the same time we are trying to understand how the brain works," Jeroen explains.
The enthusiastic professor is proud of having achieved an efficient method to work with the clinic for studying both motor neuron disease and epilepsy. "For example, we have one research line in studying ALS, or amyotrophic lateral sclerosis, that extends from the bed of the patient to the molecules we study in the lab. It is not a one-way street: it is dynamic, it goes back and forth. And, we collaborate with the entire world."
Bedankt voor uw reactie!
Heeft deze informatie u geholpen?